Feminine Moments 2003-2023
Anniversary statement by Birthe Havmøller, Editor of Feminine Moments
Birthe Havmøller: I am a pioneer queer feminist art blogger and a lesbian artist. I have done my best for the last 20 years to realise my dream, the queer feminist art visibility project: Feminine Moments. I hope you like my unique art blog and resource site.
Feminine Moments – Queer Feminist Art Worldwide
Feminine Moments is a one-woman, no-budget project, a labor of love to promote and support lesbian, bisexual and queer women artists around the world. I launched Feminine Moments a queer feminist art visibility project in 2003 because I felt that the world needed a coherent body of resources about visual art made by lesbians and queer feminist artists.
Feminine Moments grew out of isolation, my isolation not having had a network of like-minded people as a lesbian and a Danish photo-based artist in the 1990s. I wanted to know who my lesbian colleagues and creative women ancestors were, so I started researching and eventually promoting self-identified lesbian, bisexual and queer women artists, highlighting contemporary queer feminist artworks, exhibitions and monographs on my international art blog and in a monthly newsletter.
I hope that my work to promote queer feminist art will bring a greater appreciation of lesbian/queer feminist art and the lifestyle of queer women and lesbians in general.
I send a special 'thank you!' all the artists who have taken the time to write to me throughout the two decades that I have worked on this project. I would also like to invite all emerging queer feminist artists to join Feminine Moments by submitting materials for publication.
Read more: Open Call 2023-2024
In the timeline below, I look back over the 20 years that I have been running the project. There have been successes, failures and bumps on the road as expected along the way, and a LOT more tinkering with the website than I had expected. Running a big resource site is a rather complicated thing to do.
Feminine Moments – A Project Timeline


Feminine Moments 2003
2003: I was done doing my initial research (reading books and art magazines) about lesbian, bisexual and queer women artists in the summer of 2003. I bought the domain name www.femininemoments.dk on November 20, 2003. I created the first version of the Feminine Moments logo, the cherry blossom, double-Venus sign for my art visibility project.
Jan 2004: I launched the first HTML-based version of the Feminine Moments with the Feminine Moments' Bibliography about artbooks, monographs, biographies and art catalogues by lesbian and bisexual women artists and an extensive list of art links. – This was before YouTube had opened for business and WordPress was not yet something people talked about.
Nov 2006: I redesigned the logo; the rose, double-Venus sign became the new logo of the website. I also made my first experience with blogging, using an external Blogspot-blog, where I published a few artists' statements and my first articles about lesbian and queer feminist art. I also started experimenting with an RSS-feed but at the end of the day, it didn't really work for me as a PR tool.


Feminine Moments 2008-2009
March 2008: I migrated Feminine Moments from the HTML-based site to a WordPress CMS and launched my prober art blog with a single pink rose as a logo on the subpages of the site. My first feature article was about German queer feminist photographers Anja Müller and Barbara Dietl. The passage of time worked for me:  When I realised that Blogspot didn't work for me WordPress had finally become so user-friendly that I could do a MANUAL installation of the software and database on my web hotel.  It was before the 1-click-function automatic WordPress installation was invented. The total redesign of Feminine Moments gave the site a modern blog format. I created post categories and started tagging the artists' names. The artists' tags are still the core of my online branding strategy.
Sep 2010: I migrated Feminine Moments to a more professional web hotel as the security was really bad on my first web hotel. It was a good and uncomplicated move.
Nov 2011: I wrote my first articles based on in-person conversations with queer feminist artists: Danish painter Henriette Hellstern (June 2011) and American queer artist and teacher Mary Coble (Nov 2012). But it was too complicated for me to meet with the artists and write portrait articles so I stopped again a few years later.
Nov 2012: I published the first issue of Feminine Moments' monthly newsletter and I launched Feminine Moments' Facebook group for 'out and proud' lesbian artists. I still run both.


Feminine Moments 2013: 10 year anniversary
2013: I was invited to do my first artist talk about Feminine Moments together with queer painter Henriette Hellstern in Copenhagen (Sep 2023). The same autumn, I had my 15 minutes of fame: my art blog was mentioned on a big European LGBT site and the art blog's web stats read 14,897 unique visitors in the month of October 2013. With these two successes, I celebrated the 10-year anniversary of Feminine Moments in November 2013. – The queer women artists had become more visible than they were in 2003 which made my work of getting in contact with them much more easy. The 'Artists' page/tab originates from 2013. I created the tag archive utilizing a good free plugin that is still working today. It automatically updates the list of artists when I tag new artists.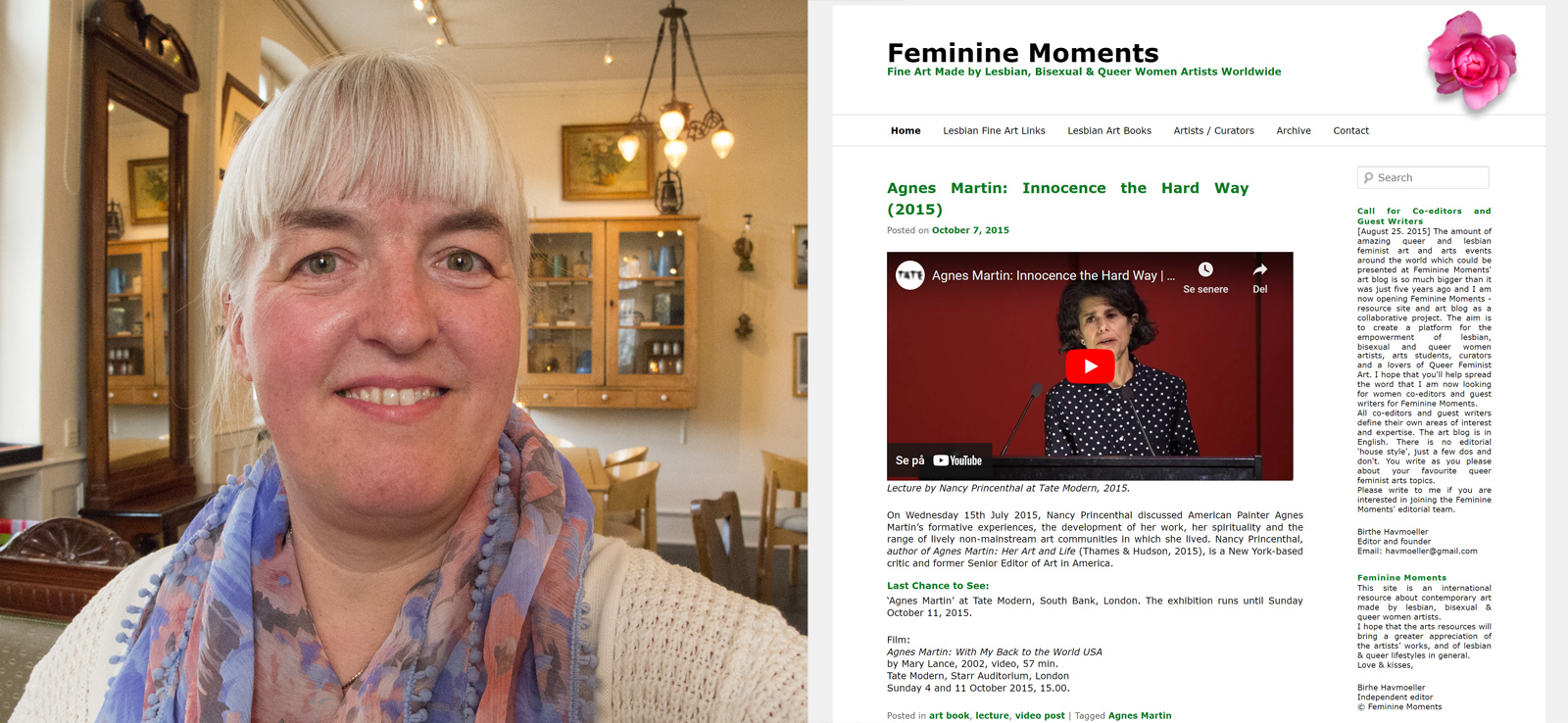 Feminine Moments 2015
2015: Arts writer Anna McNay and I started co-writing a pride article: Must-See Queer Feminist Exhibitions in Europe Summer 2015 and we repeated the success in 2016, 2017 and 2019.
I decided to change the format of the Feminine Moments' newsletter, and I started utilizing a new plugin that made it easier for me to create the newsletters. I also gave Feminine Moments' bibliography a much-needed new format. Along with the big revision of the bibliography, I created individual pages for 260+ artists about their books. Unfortunately, my open call for co-editors and guest writers later in the autumn of 2015 was a total flop.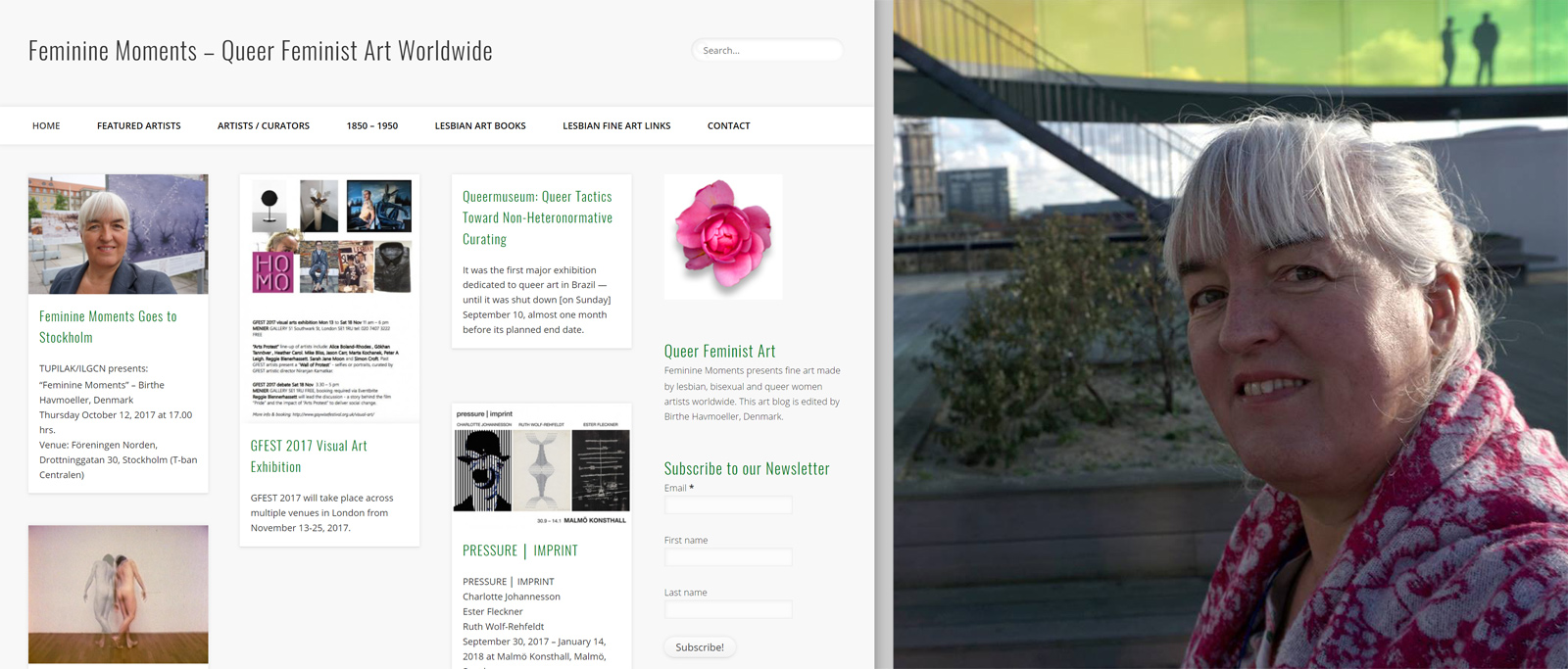 Feminine Moments 2017
Nov 2017: I received the honorary award: ILGCN Orfeo Imago 2016 in Stockholm for 'outstanding promotion of LGBT rainbow art and photography as editor of Feminine Moments', and I gave a talk about queer feminist art at the 2nd Nordic Rainbow History and Art Month in Stockholm, Sweden. In 2017, I also reached the tipping point where the traditional blog format did not work for me anymore so I installed a new free 'masonry theme' in order to show more images on the front page of the blog, making the user interface more visual and intuitive.
Oct 2018: I published the 75th issue of Feminine Moments' newsletter. The first lines of the newsletter read: Jubii! I am a queer feminist pioneer! On November 20, 2018, I'll celebrate my 15th anniversary with Feminine Moments. I am so grateful for all the queer women artists whose art projects I have had the opportunity to learn about and share on the art blog. I wish I could invite all of you for tea and cakes at my home, but I guess it is not going to happen as you are all living too far away from Aarhus, Denmark.
2019: I published the article, 'Lesbian Art History in Europe 1850-1950', the first of a series of two art herstory articles.
Jan 2020:  Before Covid happened and Zoom conversations became the new trend in the art world (while we all had to stay at home), Feminine Moments and all my other websites were subject to a hacker attack(!) What an unpleasant way to start the new year! It took me more than a month to get them all up and running again… And a month later my mother died.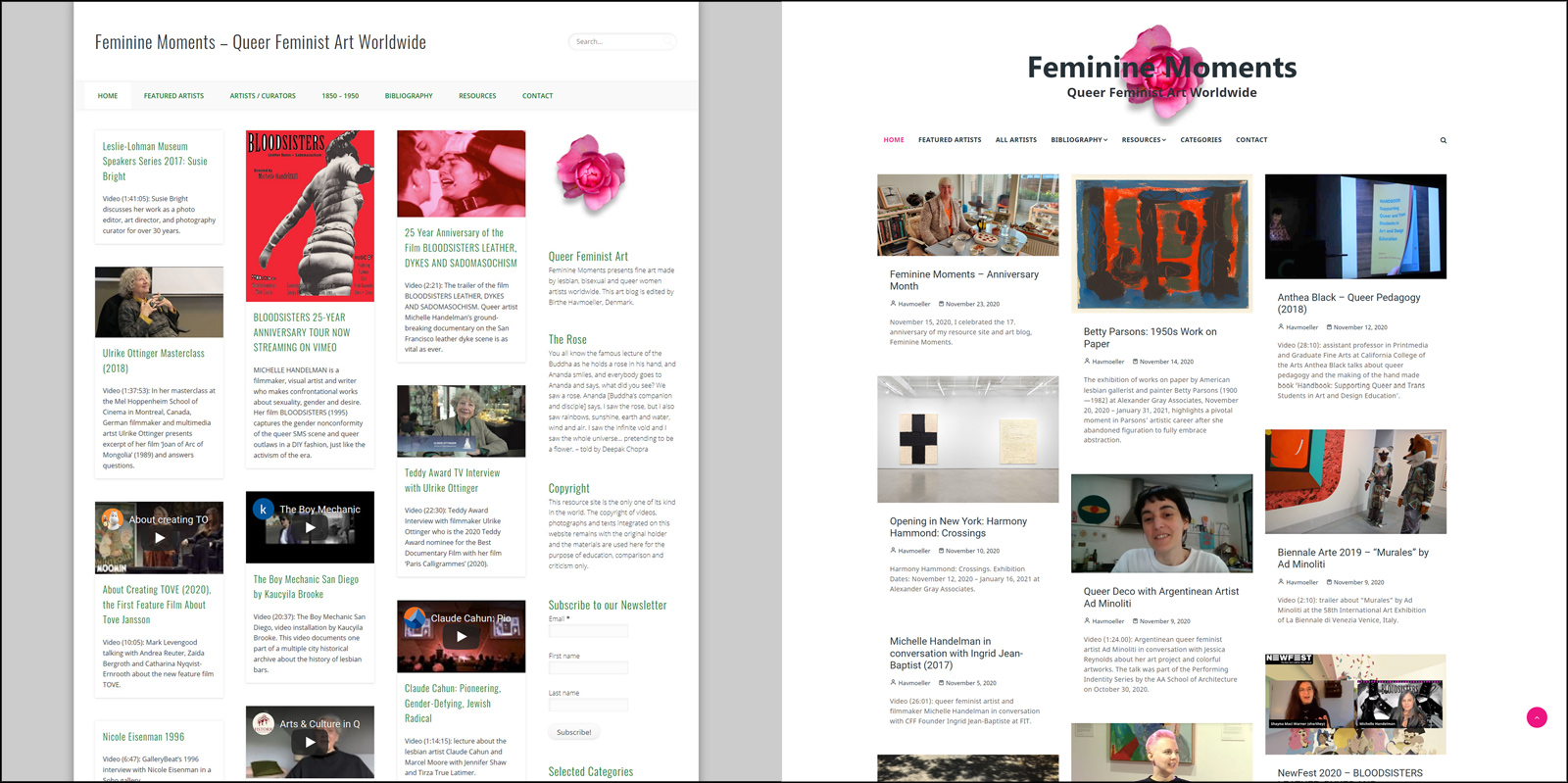 Spring and Autumn 2020, the art blog before and after WordPress 5.0 update: same, same but different.
Later the same year, WordPress made a major update (5.0) and once more I had to select a new format/theme for the website as the web designers had stopped updating the lovely masonry theme that Ihad installed on the site. – A lot of tinkering with the website to make it look same, same but different… 2020 was a year with many challenges, deep sighs and a nice sunny summer.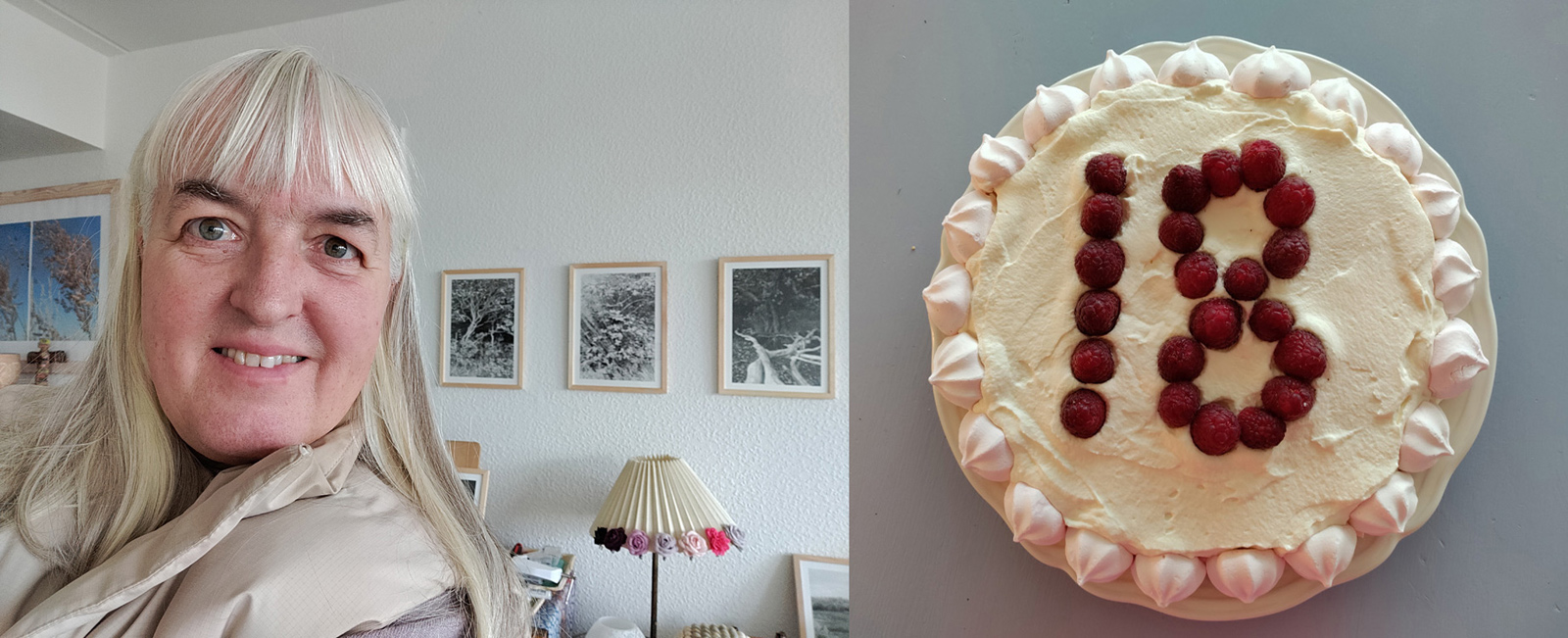 Me (the editor) and Feminine Moments' 18-year anniversary birthday cake.
2021: I launched a collaboration with guest blogger photographer Jannica Honey. We shared six of Jannica's essays on Feminine Moments in the course of 2021. And I celebrate the 18-year anniversary of Feminine Moments.
2023: This summer has been a very busy one in both good and bad ways. I had just published my newsletter issue #125(!) and then my much-loved newsletter plugin that I had used since 2015 stopped working. With much dismay, I couldn't publish a Pride Month newsletter. Fortunately in August, I was able to publish newsletter issue #126 with a new format.
This year, I also launched a fine new front page for Feminine Moments (in September 2023). It features new materials among others my groundbreaking article 'Lesbian Art History in Europe 1950-2000', my 2nd art herstory article. To my great surprise, I have surpassed my 2013 record of 14,897 unique visitors now. The new record as of October 2023 is 18,168 unique visitors in one month!


On a rainy in November 2023: Birthe Havmøller celebrates the 20 year birthday and anniversary party of Feminine Moments.
Long live Feminine Moments!